Latest News
July 2011 : Natasha is delighted to announce she has been invited to perform in aid of Muscular Dystrophy near London on Monday 14th November 2011. Read more about it here
December 2010 : Natasha has been working alongside the UK Film Council adapting the stage play into screenplay and has loved the challenge of becoming a screenwriter. The process is a long one but you never know, fingers crossed for 'Rolling with Laughter' the movie!
January 2010 : Natasha joined forces with Gok Wan and co-reporter Nikki Fox on the C4 Show 'How to Look Good Naked With a Difference' to find out why there is a lack of visible disability on the British High Streets selling Fashion and Beauty. A whopping 94% of people responded to their exclusive Naked survey and said that they wanted to see more people with disabilities used in adverts and magazines, Gok and the girls tackle this problem head-on. Click to view and to sign the petition or view the video
November - 2009 : Natasha had a fab time doing Fame with fellow One Show presenters for Children in Need. Check out the event photos or backstage and video link.
Natasha was recently nominated for Woman of the Year 2008 - check it out
Rolling with Laughter is a one woman play, with a mix of scenes and narration. Every character is real and every line is true. Natasha is currently writing a book and screenplay and will be touring the full version of her autobiographical play on a National Tour in Autumn 2010.
In the Public Eye
See what Phil & Fern made of it all when Natasha rolled in to ITV's This Morning
Natasha discusses body image with BBC News.
Watch the BBC Midlands Today interview with Natasha (and her dad).
See Natasha featured in The Daily Telegraph. (PDF)
Listen to Natasha on BBC Radio 4 (mp3) alongside Hollywood star Kathleen Turner.
Hear what Natasha had to say on BBC Radio Nottingham when interviewed both before and after the West End extravaganza..
See Natasha's interview with BBC News 24 in the video player.
Read the The Independent's 5- Minute Interview with Natasha.
Check out the latest New End, London, reviews.
Listen to the interview Natasha did on BBC Radio with Judi Spiers. (mp3)
Natasha goes front cover in the September issue of a US National Magazine New Mobility.
Peek at the Sunday Times Magazine feature A Day In The Life.
Check out Natasha's cool feature in the Scotsman Magazine.
Natasha was interviewd for the Mail's Sunday You magazine, check it out (PDF).
Who is Natasha Wood?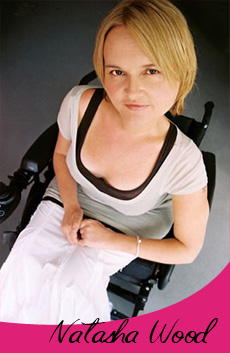 While the usual phrase is "confined to a wheelchair," there isn't anything that confines this witty Brit's spirit. Wood is living her dream of performing her one woman autobiographical play in the UK and US.
She had quite the jet-set life in England with a fairytale marriage, quirky parents, siblings, and a hot job as production manager for the BBC. Wood worked as an actor in her early twenties before launching a career behind the camera at the BBC including stints in News, Entertainment, Children's, Live and Documentaries - but she can't lift a pint of milk. She can't walk, either. She has a neuromuscular condition called SMA (Spinal Muscular Atrophy).
Sometimes through tears, her story is an empowering, humorous, one-of-a-kind take on life, love and lingerie - with a little disability and love of firemen thrown in - that inspires others to live as large as Wood does on a daily basis.
Rolling with Laughter recently opened as a World Premiere in Hollywood, California to critical acclaim.
Wood has received coverage on local news stations including a Live Broadcast at the theatre on Fox News - see press.

Rolling with Laughter Song
Download the MP3 (3MB)
About the artist : Brittany Nordtvedt is a fresh up-and-coming singer, performer, songwriter and producer who has performed shows all over Seattle and LA and recorded many of her own projects. (Read More)